Examples of Custom CSS for Easy Database for Websites Widgets
On June 30, 2013, we will no longer support Easy Database for Websites. Visit Exporting Your Easy Database for Websites Table for information on exporting your content and moving to another company.
To customize the look of Easy Database for Websites using CSS, you need to write CSS rules and link to them on your site. You can either do this using a <style type="text/css"> tag, or linking to an external file with a <link rel="stylesheet"> tag. If you're unfamiliar with this process, there are several resources available on the Internet to show you how to do it.
For more information see Customizing Easy Database for Websites Widgets with CSS.
Here are some examples of custom CSS in Easy Database for Websites. These are only examples and not all you can do. You are only limited by your imagination.
Here's an example of what a widget looks like by default: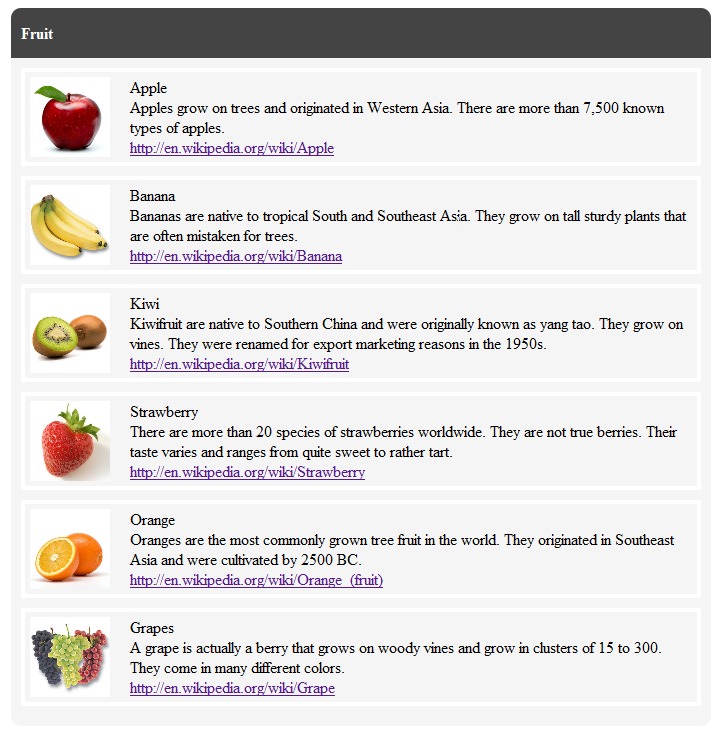 NOTE: We provide this CSS information as a courtesy. In general, we do not support custom code or custom scripts. We assume that customers using custom CSS have the technical skills necessary to troubleshoot their own coding. For additional support, you can post your custom CSS questions to the Easy Database for Websites Go Daddy Support forum.
Have a question about the content of this article?